THE CHIMNEY SWEEPER: WHEN MY MOTHER DIED I WAS VERY YOUNG -BY WILLIAM BLAKE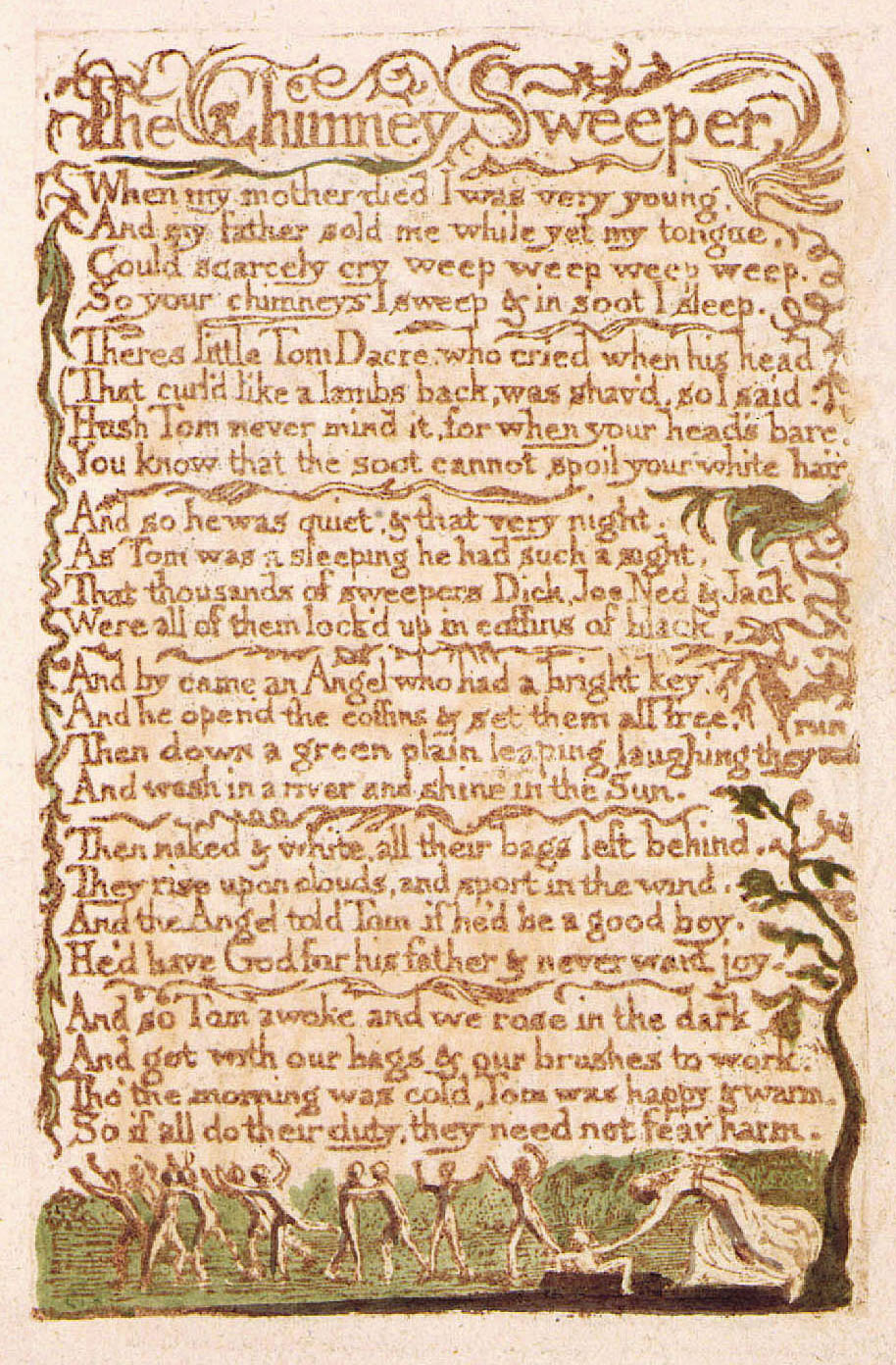 Songs of Innocence, copy B, 1789 (Library of Congress) object 16 The Chimney Sweeper
When my mother died I was very young,
And my father sold me while yet my tongue
Could scarcely cry " 'weep! 'weep! 'weep! 'weep!"
So your chimneys I sweep & in soot I sleep.
There's little Tom Dacre, who cried when his head
That curled like a lamb's back, was shaved, so I said,
"Hush, Tom! never mind it, for when your head's bare,
You know that the soot cannot spoil your white hair."
And so he was quiet, & that very night,
As Tom was a-sleeping he had such a sight!
That thousands of sweepers, Dick, Joe, Ned, & Jack,
Were all of them locked up in coffins of black;
And by came an Angel who had a bright key,
And he opened the coffins & set them all free;
Then down a green plain, leaping, laughing they run,
And wash in a river and shine in the Sun.
Then naked & white, all their bags left behind,
They rise upon clouds, and sport in the wind.
And the Angel told Tom, if he'd be a good boy,
He'd have God for his father & never want joy.
And so Tom awoke; and we rose in the dark
And got with our bags & our brushes to work.
Though the morning was cold, Tom was happy & warm;
So if all do their duty, they need not fear harm.
In the late 1600s in England in response to the Great Fire of London, which gutted the city, building codes changed, requiring chimneys to be much narrower than previously. Due to the new design, keeping the chimneys free of obstruction became more of a challenge and a priority. Shockingly, instead of someone inventing a tool for this purpose, children were employed as human chimney sweeps. For over 200 years, this practice went on, in spite of the deplorable conditions the children lived in, the horrible health effects they suffered, and the many injuries and fatalities resulting from related work hazards.
Master Sweeps took in homeless young boys or bought young children from orphanages or from destitute parents; and the children were supposedly chimney sweep apprentices. Instead, they were nothing less than indentured servants, harshly treated and forced to work from dawn until dusk every day of the year but one.
The small boys used as chimney sweeps were typically between 5 and 10 years of age, and some were as young as 4 years old. They clambered up chimneys with brushing and scraping tools that knocked the creosote and soot from the chimney lining. The boys also had metal scrapers and small brushes to remove hard tar deposits. After reaching the top, the boys slid back down and collected the soot pile, which the master sold to farmers as fertilizer. If the boys were reluctant to climb or were too slow at their work, their masters would sometimes hold a lighted torch under their feet; this is where the phrase "light a fire under someone" originated.
The chimney sweeps were not given any type of respiratory equipment or protective clothing. They suffered many health problems because of their constant exposure to soot and because of the unnatural positions they were in so much of the time. Work-related health problems included: deformed ankles, twisted kneecaps, twisted spines, inflammatory eye syndrome, and respiratory illnesses. The first industrial disease in history was suffered by young chimney sweeps. Chimney sweeps in their adolescence often suffered and died from Chimney Sweep Cancer, a horribly painful and fatal cancer of the scrotum.
The chimney sweeps also frequently suffocated inside the chimneys from breathing the soot. Sometimes they got stuck and died in the narrow chimneys. Many also died after falling or were killed or injured from burns.
The living conditions of the chimney sweeps offered them no relief. They were usually barely fed and slept in basements, covering themselves with the filthy soot sacks they worked with. The boys rarely bathed and were frequently sickly.
Most were unsympathetic to the plight of the young chimney sweeps, but not everyone. Several works of literature helped to bring a spotlight to their terrible plight, including "The Water-Babies, A Fairy Tale for a Land Baby," written by Reverend Charles Kingsley and published in full in 1863. Earlier, in the late 1700s, William Blake wrote poetic depictions of the lives of climbing boys which were published in two books of poetry, Songs of Innocence and Songs of Experience.
George Brewster, a 12-year-old chimney sweep, became the last climbing boy in England to die on the job. In February of 1875, his master, William Wyer, sent him into the Fulbourn Hospital chimneys, where he got stuck. A wall was pulled down in a desperate attempt to rescue him, but he died a short while after the rescue. In September of 1875, a bill was pushed through which put a stop to the practice of using children as chimney sweeps. Joseph Glass, an engineer from Bristol, England, invented the original brushes and rods used to clean chimneys; the design is still used today.
Child chimney sweeps are remembered and honored every year in England in early May. The date of the annual event coincides closely with May Day, the one day each year the climbing boys were off work, when they danced joyfully in the streets of England.
Actual footage of the plight of the chimney sweepers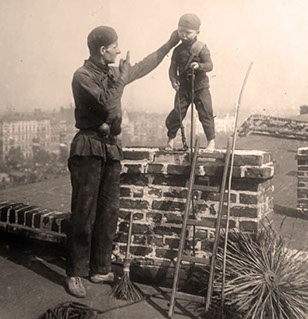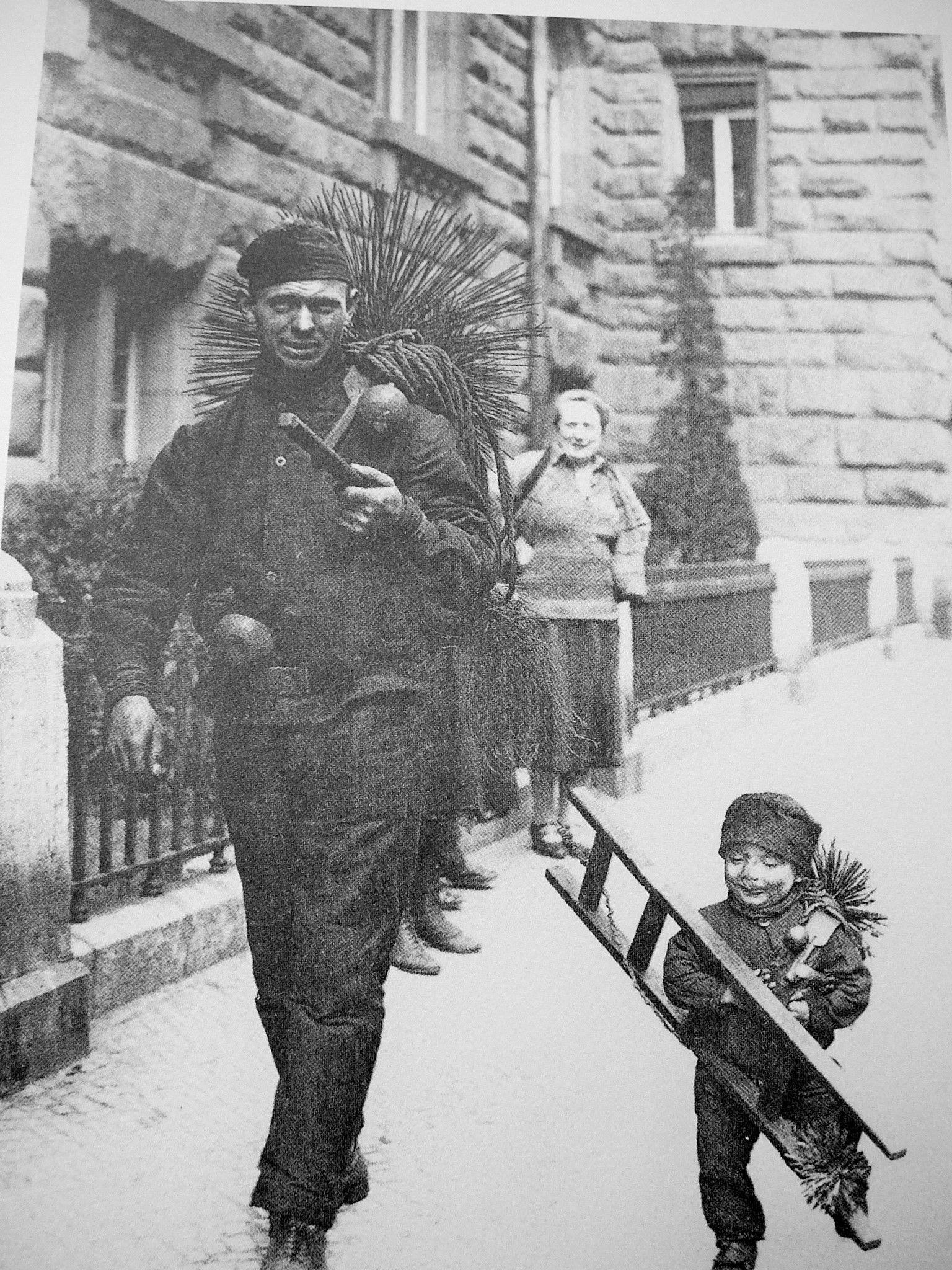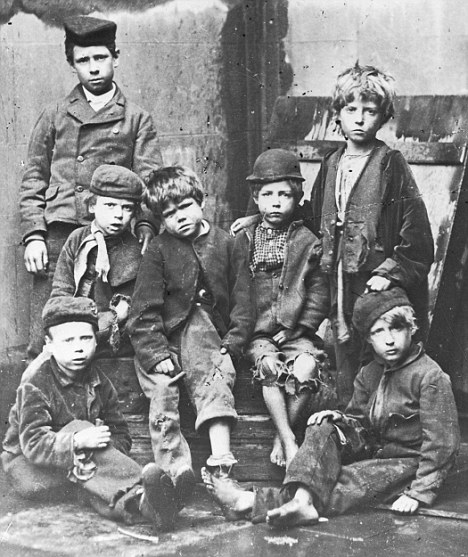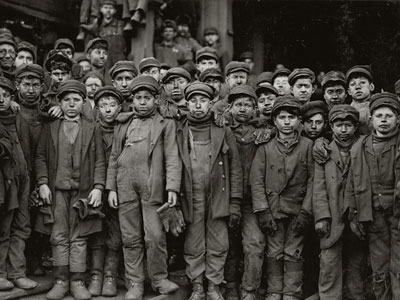 STANZA -1 LINE – 1
When my mother died I was very young, [a]
1st person narration
Poem opens with a death
Disunites the narrator from motherly love in order to increase the pathos of the poem and to create a hostile atmosphere for him
The 'young age of the narrator is emphasized'
The possessive nature of the little child towards his mother can be seen through the possessive pronoun
STANZA -1 LINE – 2
And my father sold me while yet my tongue [a]
Separates the child from the father too, in order to emphasize the unjust
The possessive nature of the little child towards his father is yet again emphasized through the possessive pronoun 'my'
'MY father' is the one who sells the narrator. It emphasizes the hopelessness
A human being is sold – it indicates the slavery which is practiced in the contemporary society
Selling of a human being further indicates the dehumanized values of the society
'Tongue' is a synecdoche which refers to the narrator's manner of speaking (refer to the poetic devices in https://englishliteraturesrilanka.com/g-c-e-a-l-english-literature/)
The possessive pronoun repeats for three times in the stanza
STANZA -1 LINE – 3
Could scarcely cry " 'weep! 'weep! 'weep! 'weep!" [b]
The meaning to the previous line runs on to the third-creating an enjambment
'weep' is an indication of the child's actual mispronunciation of the word 'SWEEP' due to lisping (note how 'S' in the word 'sweep' is replaced with an apostrophe)
A contraction " 'weep " is called ELISION
In the government text book the four apostrophes which create the elision are not printed
The lisping effect further emphasizes the young age of the narrator and it contributes to generate sympathy
The poet purposely confuses the reader to misinterpret between " 'weep" and "weep" in order to make him realize his own prejudice
'Could scarcely cry' is an alliteration of 'C'
Direct speech increases the dramatic quality of the poem
Repetition of " 'weep " enhances the pathetic situation of the child
STANZA -1 LINE – 4
So your chimneys I sweep & in soot I sleep. [b]
The word 'Your' directly targets the reader and makes him responsible for the corrupted status of the society
"your chimneys I sweep" "in soot I sleep" are anastrophes
The usage of the pronouns throughout the 1st stanza juxtaposes 'you' and 'I'
STANZA -2 LINE – 1
There's little Tom Dacre, who cried when his head [a]
The narrator starts to tell the reader about Tom Dacre. Possibly a friend of his
Enjambments makes the idea of the overall poem complex while arousing the curiosity of the reader
The crying of Tom indicates his dislike and disapproval of the upcoming action
STANZA -2 LINE – 2
That curled like a lamb's back, was shaved, so I said, [a]
Lamb is a universal symbol for Jesus. It also connotes the idea of innocence
Removing the lamb-like feature of tom by force -indicates the loss of innocence
The two commas which interrupt the flow are caesurae, and they emphasize the emotional trauma of the recipient
STANZA -2 LINE – 3
"Hush, Tom! never mind it, for when your head's bare, [b]
The attempt of the narrator to justify the action of shaving the hair indicates the helplessness and his ability to conform
The exclamatory consolation is an interjection
The caesura again emphasizes the emotional stress
STANZA -2 LINE – 4
You know that the soot cannot spoil your white hair." [b]
Notice the contrast between black and white, and the irony it adds to the poem
Soot metaphorically indicates the corruption
STANZA -3 LINE – 1
And so he was quiet, & that very night, [a]
Mark the excessive repetition of coordinating conjunctions (AND)
Night symbolizes death and danger
'quiet' is an indication of Tom's acceptance
'very' highlights the urgency of the action
STANZA -3 LINE – 2
As Tom was a-sleeping he had such a sight! [a]
Arouses the curiosity of the reader as the line itself does not reveal the subject of the 'sight'
'such a sight' is a hyperbole
The repeated 's' sounds create the effect of sibilance in order to prepare the reader for the crux of the poem
"a-sleeping" is a neologism and it simulates the diction of a child
Interjection is used (!) in order to add emphasize to the upcoming encounter
STANZA -3 LINE – 3
That thousands of sweepers, Dick, Joe, Ned, & Jack, [b]
'Thousands' is a hyperbole
'Dick, Joe, Ned, & Jack' are common English names. Thus, it indicates that most of the commoners suffered the same fate
The asyndetic style of the enumeration adds emphasis to the number of victims
STANZA -3 LINE – 4
Were all of them locked up in coffins of black; [b]
Anastrophe is used (starting with were)
'coffins' indicate the inescapable fate of the young sweepers
Black symbolizes the eminent death
STANZA -4 LINE – 1
And by came an Angel who had a bright key, [a]
Key indicates the promising escape
Angle is a representative of the religion (Christianity)
Note the contrast of previously mentioned 'black' and the current brightness
Ironically indicates that, to possess the 'Key' the Angle should be the owner of the coffins
The scenario alludes to history where children were used by the church as child labourers
STANZA -4 LINE – 2
And he opened the coffins & set them all free;[a]
Indicates that the religion is the savior
The children are saved by the angel only in the state of dreaming in an ironical manner
The idea of freedom and bondage are contrasted through the poem
STANZA -4 LINE – 3
Then down a green plain, leaping, laughing they run, [b]
Note the colourlessness of the real world and the colourfulness of the dream world which creates a visual juxtaposition
The writer uses another asyndetic style of enumeration in order to indicate the basic needs of a child
Such needs of a child are only achieved in his dream world
STANZA -4 LINE – 4
And wash in a river and shine in the Sun. [b]
Note how the 'sun' is only visible in the dream world
The 'sun' adds warmth to the dream world which juxtaposes with the 'cold' of the real world
STANZA -5 LINE – 1
Then naked & white, all their bags left behind, [a]
The narrator is Still in the dream world
Note the juxtaposition between 'black' which exists in the real world and 'white' in the dream world
'Bags' is a metaphor for the burdens and hardships which are only left behind in the dream world
STANZA -5 LINE – 2
They rise upon clouds, and sport in the wind. [a]
Clouds and wind are indications of freedom
Note how the bondage (coffins) in the previous stanza contrasts with freedom
STANZA -5 LINE – 3-4
And the Angel told Tom, if he'd be a good boy, [b]
He'd have God for his father & never want joy. [b]
Manipulative nature of the religion is indicated as what is said by the angel is a condition (note the conditional clause) which is similar to trading
Note how the sound of 'want'(meaning- lack) acts as a pun (won't)
Indicates how the religion wants people to conform to the corruption
The image of God is used to manipulate the innocence in to corruption by the representative, Angel
The syntax of the representative of the religion is complex even though he speaks to a very small child, and it contrasts with the simple diction and the syntax of the narrator
The complex and sophisticated syntax emphasizes the complexity of the religion which misleads the innocent who fails to understand the figurative meaning due to their unsophisticated status
STANZA -6 LINE – 1
And so Tom awoke; and we rose in the dark [a]
Coming back to the real world brings back the darkness to the poem
Note how the narration of the poem changes from 'I' to 'WE'
STANZA -6 LINE – 2
And got with our bags & our brushes to work. [a]
The bags left behind in the dream world are picked up
Note the anaphora of 'and' which emphasizes the confusion of the victims
Note the repetition of 'our' which indicates the isolation of the sweepers
STANZA -6 LINE – 3
Though the morning was cold, Tom was happy & warm; [b]
The warmth of the SUN in the dream world and the COLD in the real world are contrasted
Note the difference between the warmth of the dream world and the warmth of the real world which is rather emotional and artificial
The sadness in the second stanza is contrasted with the happiness
STANZA -6 LINE – 4
So if all do their duty, they need not fear harm. [b]
Ironically indicates how the religion masks the inescapable death and builds up an unachievable expectation on the innocent
The entire stanza contains caesurae highlighting the emotional confusion and trauma of the children
Notice
Join ELSL classes to learn every poem/novel/drama/short story like this. CALL/SMS 071 280 96 97
Manipulative nature of religion
Loss of innocence
Hope
Religious and social corruption
Copyright © 2019 ELSL. All rights reserved